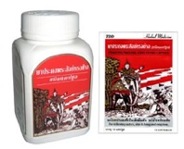 INDICATION
Helps relieve of skin rashes and disease caused by lymphoid disorder
DOSAGE
2 capsules/time
2 times daily after meal
MAIN INGREDIENTS
Radix Angelicae Sinensis (Angelica / Dang Gui)
Stemona collinsae Craibr. (Stemona)
Oenanthe StoloniferaDC (Water dropwort)
Chaulmoogra Hydnoccarpus anthelminthicus Pierre (Chaumoogra)
Cinnamomum camphora (Camphor)
Rauvolfia serpentina (Rauwolfia)
Artemisia indica Willd.var.heyneana Pampan.
Cladagynos srientalis Zipp. ex Spanoghe.
Gardenia erythroclada Kurz.
CAUTION
Not recommended for a pregnant woman
Keep out of reach of children
Store in a cool, dry place
SIDE EFFECTS
A consumer will experience an increase in skin rashes and itchiness, which caused by an accumulated inner toxin being pushed out. A course should be continued until the amount of rashes reduces and the symptoms finally disappear. In some cases, a consumer may feel weary. In so, it is advised to reduce the dosage to 1 capsule/tablet per time and one time daily. Or temporarily stop consumption and start again later.
3 TYPES OF PACKAGING
Contains 60 capsules
Contains 10 capsules
Ingredients tested and certified by Thai Food and Drug Association with official registration number G 208/42
Contains 45 tablets
Ingredients tested and certified by Thai Food and Drug Association with official registration number G 224/42